Skip to Content
Discover the Power of Porcelain Veneers at Burke or Springfield, VA's Fox Family Dentistry
Do you stand in front of the mirror every morning imagining yourself with a picture-perfect smile? Are there certain aspects of your teeth that you wish you could change? If so, you're like millions of Americans. But just like those people, you don't have to live with bad teeth any longer.
At Fox Family Dentistry, we have advanced cosmetic dentistry options to brighten your smile and boost your confidence. A healthy mouth and healthy body means much more than brushing your teeth and flossing. It's about finding a smile that fits your personality.
Porcelain dental veneers are a versatile cosmetic dental restoration that can cover unsightly chips, cracks, or small breaks in the teeth; gaps in the teeth; and heavy stains on teeth that cannot be removed by whitening. They can even help strengthen teeth with worn enamel.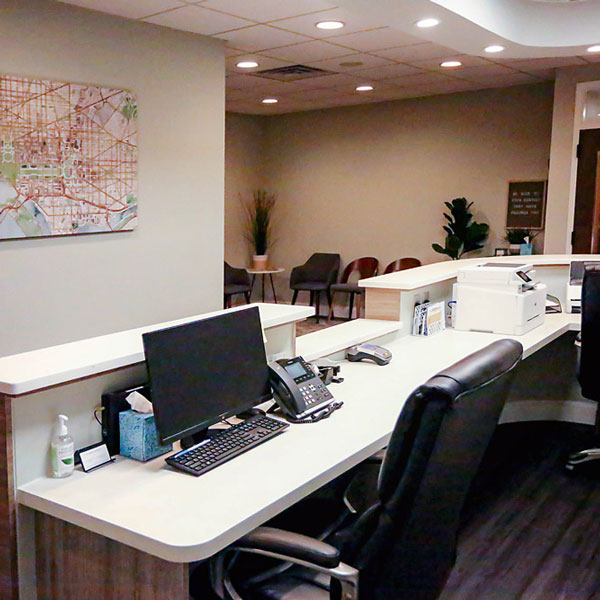 How Can Porcelain Dental Veneers Restore My Smile?
Veneers are extremely thin layers of porcelain that are placed over each tooth. Your tooth is made up of four different tissues, with the enamel being the outer tissue. When the enamel is damaged or is heavily stained, a veneer can be placed on the tooth to restore function and appearance. Porcelain is preferred in this process because it is strong and refracts light much like your natural tooth. A well-placed and designed veneer should look identical to healthy, bright tooth enamel. One of the biggest benefits of a porcelain veneer is that it does not fade or stain with age, though the restoration's life span often is based on how the patient cares for his or her teeth.
If you're considering a complete smile makeover, we may ask you to consider whitening your teeth once the dental veneers are placed.
How We Place Your Veneers
We can place your veneers in two simple visits. We first prepare the tooth and take an impression of the mouth so we can get an accurate mold for your permanent restoration. It's important to understand that porcelain veneers require us to remove a small portion of your enamel. While enamel is the hardest substance in your body, it can erode with exposure to harmful bacteria. And once the enamel erodes or is removed, it cannot be restored, so veneers are not reversible. However, our dental office ensures that this enamel-removal process is as minimally invasive as possible.
You'll wear a temporary veneer while your permanent restoration is being fabricated. This takes about one week. During your final visit, we'll use a high-strength bond to place the permanent veneer or veneers on your teeth. With proper maintenance, the veneer should last for years or even longer.
Most of our patients are candidates for porcelain veneers, depending on their smile goals. We ask that patients seeking veneers are free of decay or gum disease. Veneers can be used for both cosmetic and restoration purposes. For patients who need root canals on their front teeth, we've found that a restoration like a veneer can restore the tooth and reduce the risk of a break or fracture. If your teeth have severe breaks, we may ask you to consider restoring the tooth with a dental crown.
Dr. Lawrence Fox, Dr. Erik Fox, or Dr. Ahmed Ezzeldin will sit with you to discuss your smile options and then explain every facet of the procedure before launching into treatment mode. For a consultation, call our Burke office at 703-978-5253 or our Springfield office at 571-429-4420, or use the convenient online form to book your dental veneers in the Burke or Springfield, VA area appointment today.
Fox Family Dentistry
Burke Office
5200 Lyngate Ct, Burke, VA 22015
Monday: 7:00 AM – 4:00 PM
Tuesday: 7:00 – 4:00 PM
Wednesday: 7:00 AM – 4:00 PM
Thursday: 7:00 AM – 4:00 PM
Springfield Office
7837 Rolling Road, Springfield, VA 22153
Monday: 7:00 AM – 4:00 PM
Tuesday: 7:00 AM – 6:00 PM
Wednesday: 7:00 AM – 5:00 PM
Thursday: 7:00 AM – 5:00 PM
Friday: 7:00 AM – 4:00 PM
Burke
Second Floor, 5200 Lyngate Ct, Burke, VA 22015, USA
Springfield
7837 Rolling Rd, Springfield, VA 22153, USA
We'll Take Care of Your Dental Needs at Fox Family Dentistry