Skip to Content
Keep Your Smile in Tip-Top Shape at Fox Family Dentistry
The most common reason that people visit Fox Family Dentistry is that they need to come in for their six-month dental cleaning and dental exams. Coming in to let our experienced staff determine what measures need to be taken to make sure your oral health is where it needs to be is an important step in maintaining excellent overall health. If you come in for a standard dental cleaning and dental exams, X-rays, periodontal cleaning, or a complete dental exam that includes an oral cancer screening, we have you covered! Have your regular dental cleanings and dental exams Burke and Springfield, VA area with Dr. Lawrence Fox, Dr. Erik Fox, and Dr. Ahmed Ezzeldin at Fox Family Dentistry.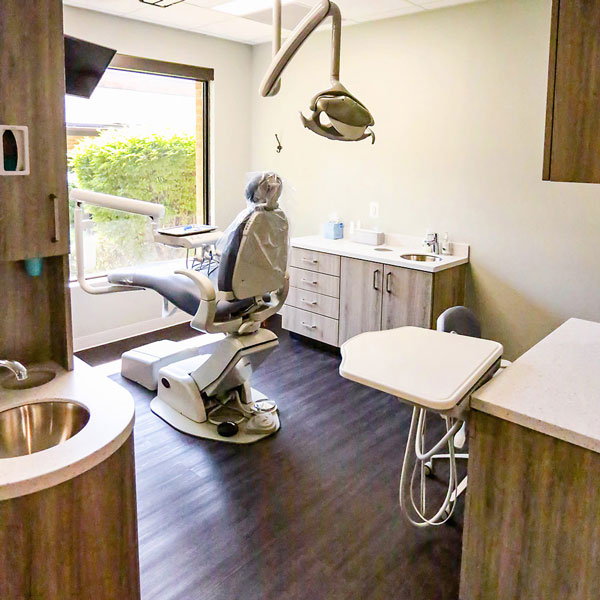 Standard Dental Cleanings in Burke and Springfield, VA
When you do your part in taking care of your teeth within the comfort of your own home, our dental cleaning and exam will be straightforward and easy. If you have been taking good care of your teeth, we will go through your mouth and give it a thorough cleaning while paying extra attention to those hard-to-reach places that you may not have been able to clean as well. After we floss and polish your teeth, we will send you on your way with a healthy smile that you can be confident in showing off!
Dental X-Rays
When X-rays are taken at Fox Family Dentistry, we will be searching for possible problem areas in your teeth. The kind of things we will look for include cavities, the health of the roots in your teeth, the health of the bone surrounding your teeth, the status of incoming teeth for younger patients, and the general health of your teeth and jaw.
Periodontal Cleaning to Guard Against Gum Disease
If you come in for an exam and we determine that you are showing signs of developing gum disease, deep cleaning of your mouth may need to take place. At Fox Family Dentistry, this means performing a scaling and root planing procedure that will not only clean your teeth above the gums but also below the gums. After this deep cleaning is complete, your mouth will be returned to excellent oral health, and all traces of gum disease will be eradicated!
During this deep cleaning, plaque and tartar will be cleaned from above your gums followed by a gentle cleaning below your gums down to the roots and periodontal pockets to the point where the bacteria that help cause gum disease is no longer present.
Oral Cancer Screenings
During a complete exam with one of our Doctors, you will be subject to an oral cancer screening in which either Dr. Lawrence Fox, Dr. Erik Fox, or Dr. Ahmed Ezzeldin will check for any irregular bumps, discolored tissue, and major changes in your neck, face, or oral crevices. Performing this screening can often catch oral cancer in the early developmental stages, and if caught early, it can save you a great deal of pain.
To schedule your family's dental cleanings and dental exams the Burke or Springrield, VA area, make an appointment at Fox Family Dentistry by calling our Burke office at 703-978-5253 or our Springfield office at 571-429-4420. We want to give you and your family a confident smile!
Fox Family Dentistry
Burke Office
5200 Lyngate Ct, Burke, VA 22015
Monday: 7:00 AM – 4:00 PM
Tuesday: 7:00 – 4:00 PM
Wednesday: 7:00 AM – 4:00 PM
Thursday: 7:00 AM – 4:00 PM
Springfield Office
7837 Rolling Road, Springfield, VA 22153
Monday: 7:00 AM – 4:00 PM
Tuesday: 7:00 AM – 6:00 PM
Wednesday: 7:00 AM – 5:00 PM
Thursday: 7:00 AM – 5:00 PM
Friday: 7:00 AM – 4:00 PM
Burke
Second Floor, 5200 Lyngate Ct, Burke, VA 22015, USA
Springfield
7837 Rolling Rd, Springfield, VA 22153, USA
We'll Take Care of Your Dental Needs at Fox Family Dentistry